Pipedrive: The CRM System all Lawyers Need, but Some Don't Know it Yet
You've just met your third client of the day, you have an invoice to send, and your desk is covered in sticky notes with tedious "to-do" lists. You get a phone call from a new client who wants to meet as soon as possible, but you just don't see yourself being able to make the time until next week. There is always so much work around the work, especially as a lawyer. You're managing paperwork, logistics, and struggling to keep track of where your process stands with each client. If only you had a little more time to meet with clients, focus on legal strategies, and actually do the work you're best at doing. 
Well, this is exactly what Pipedrive is for. The Pipedrive CRM (Customer Relationship Management) is a software that is designed to help centralize data, automate tasks and keep track of your current processes with clients. The system is designed to complete the trivial tasks that occupy your time so that you can spend more time focusing on your clients and the actual legal work. Pipedrive can be used to automatically send emails, simplify your customer acquisition process, generate invoices and can also be customized to fit the unique needs of your firm. The program visually displays where each deal stands, so you can easily see what you need to do to get it done. In this article, I'll break down exactly how the "Pipedrive" CRM can be beneficial for you. 
1. Automate your Customer Acquisition
Let's say a new client reached out to you for the first time via email. Pipedrive can automatically send out an email reply with a questionnaire for the client to fill out, or a video in which you greet them hello and refer them to some of your work to create trust even before your first interaction. Based on a set of criteria you've previously defined, the system can filter the client. If they're a good fit for your services, a link can be sent to schedule a meeting or phone call. If they aren't the type of client you usually work with, Pipedrive can send an email notifying them, saving you the time and hassle. All of a sudden there is less on your plate. You have more time to perform actions that can really impact your business. 
That's just one example of countless automations you can easily create with the Pipedrive CRM. The great thing about these automations is that they are completely customizable, so you can automate the exact tasks that take up too much of your time and energy. As we know, time is money– so imagine what could happen to your business if instead of replying to emails, generating invoices or scheduling appointments you could actually focus on your area of expertise, legal counsel. Law firms we work with are constantly increasing productivity and time availability as a result of adding more and more automation to accelerate growth and enhance the customer experience.  
2. Managing Your Sales Process
Pipedrive is the best tool for navigating the "pre and post sales" process. The system is used to clearly define the stages of the sales process and to break down the tasks that need to be finished for a deal to get done. Many firms use Pipedrive to guide their team through the customer acquisition process in the most efficient way possible. Each step is mapped out, giving the person who is completing the deal an easy-to-follow "playbook". The complex process of closing a deal is now a list of manageable and practical tasks. Pipedrive can also be used to navigate "post-sales" or any other client- oriented process that has multiple steps.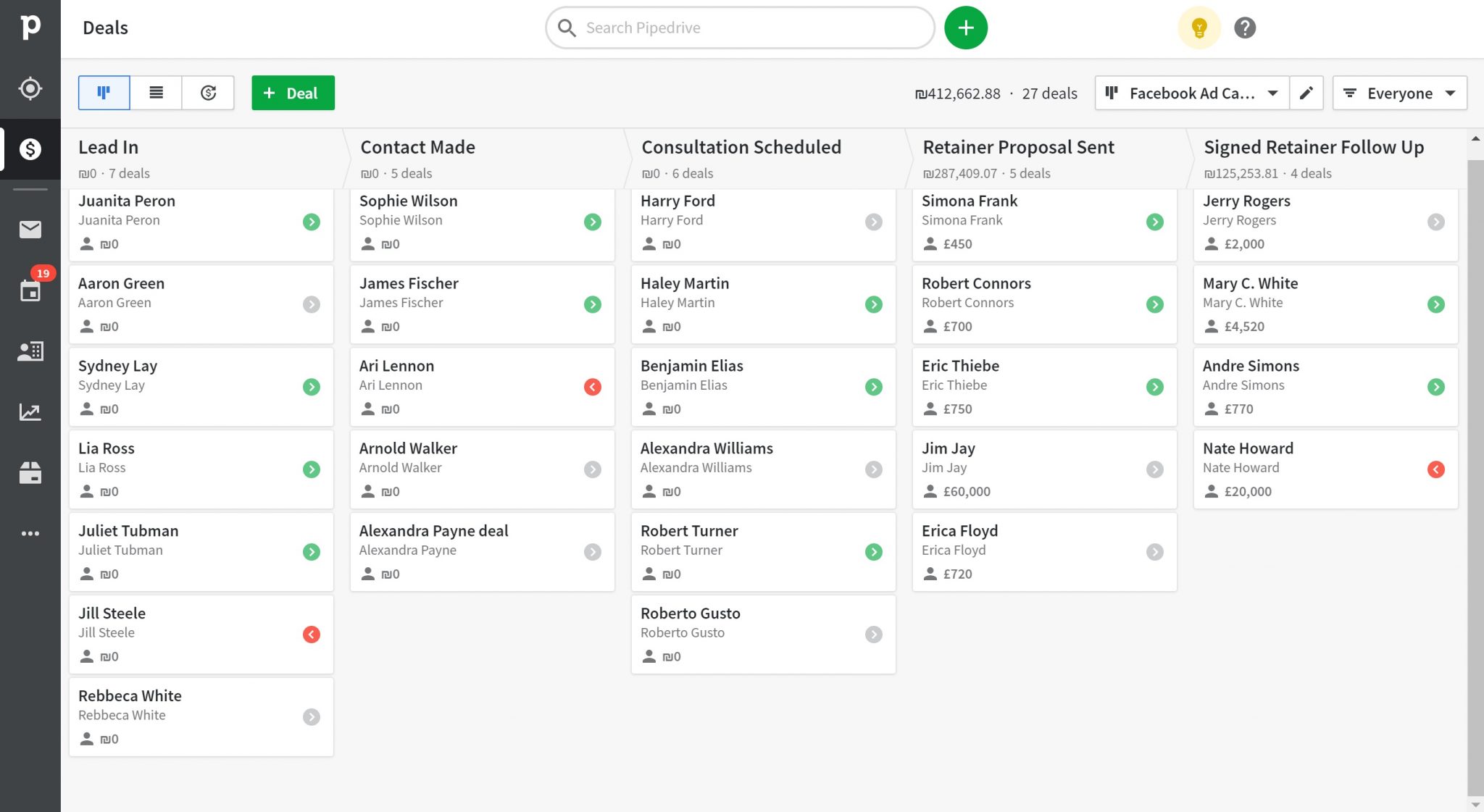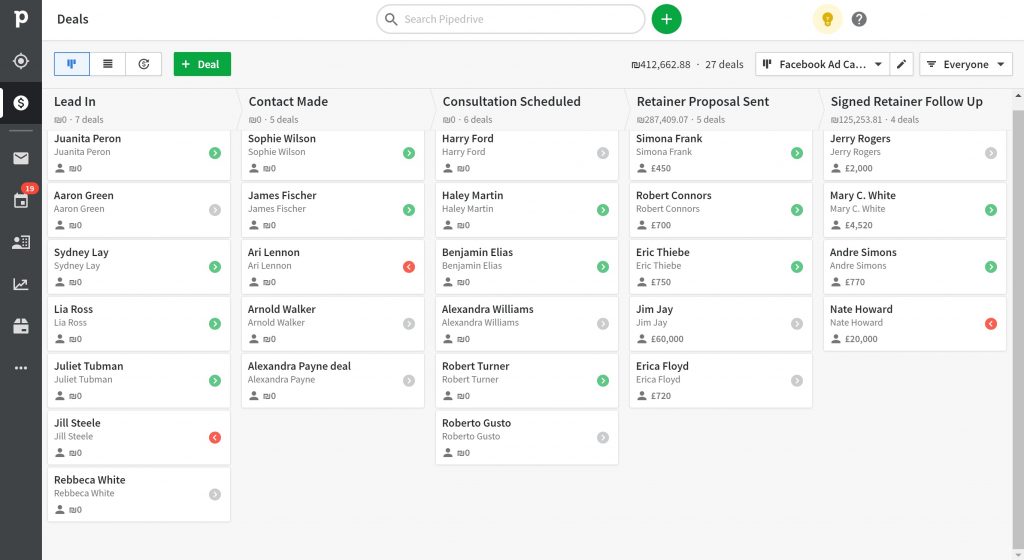 Law Firms that begin using Pipedrive often see a quick spike in the amount of deals that they are able to close, and reach new levels of efficiency. Potential deals & contact follow ups are simply no longer slipping through the cracks, because the actions that need to be completed are visually laid-out in front of you and even prioritized automatically. Pipedrive can also help you take immediate action when a deal is stuck in one stage for too long. It's one thing to feel that you aren't progressing with a client at the speed you'd like, it's another to see a deal rotting automatically and changing its color in front of your eyes. Like many Pipedrive features, deal rotting is activated at the right moment and without setting a reminder in advance. You know you're busy. You know how this could change the game for you.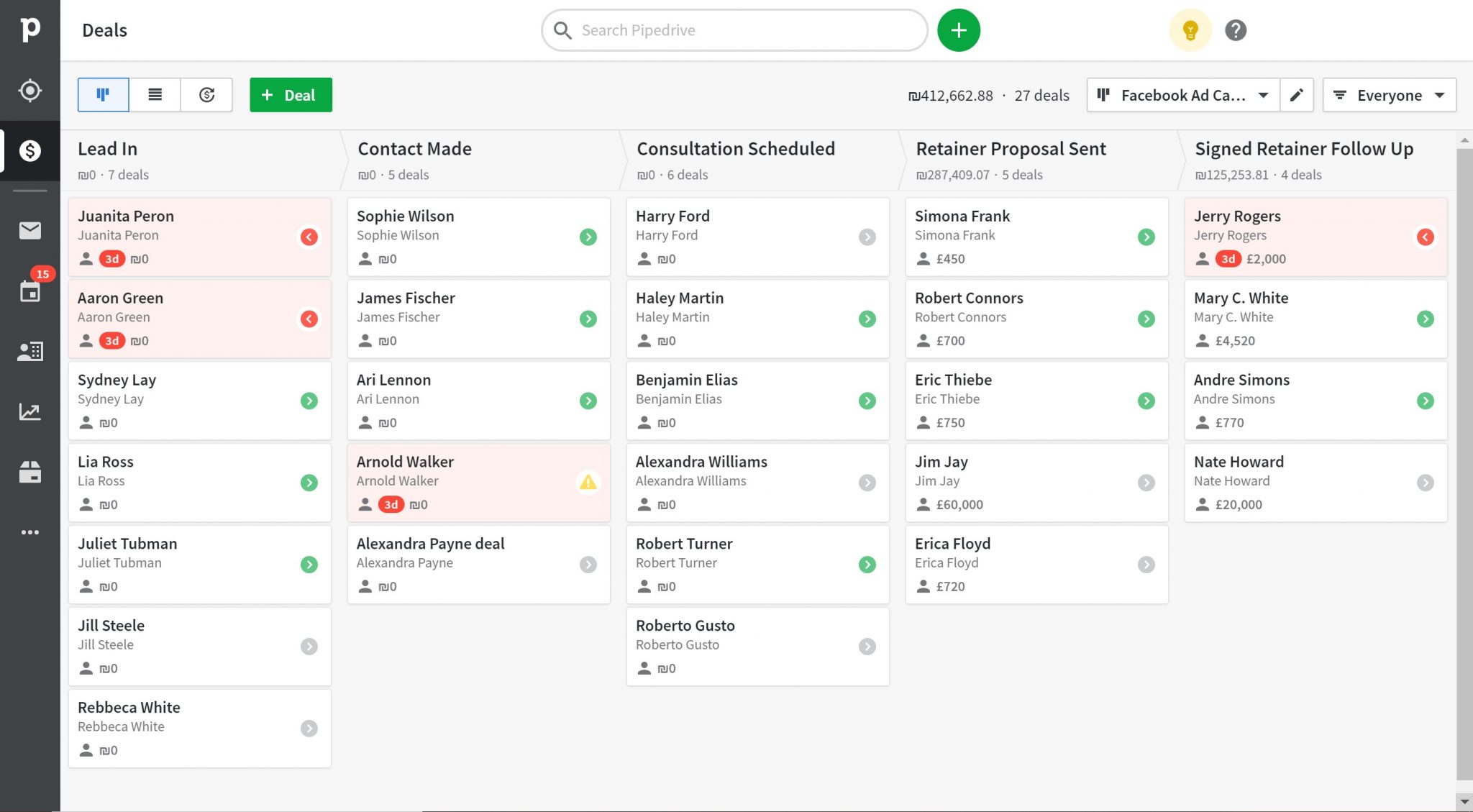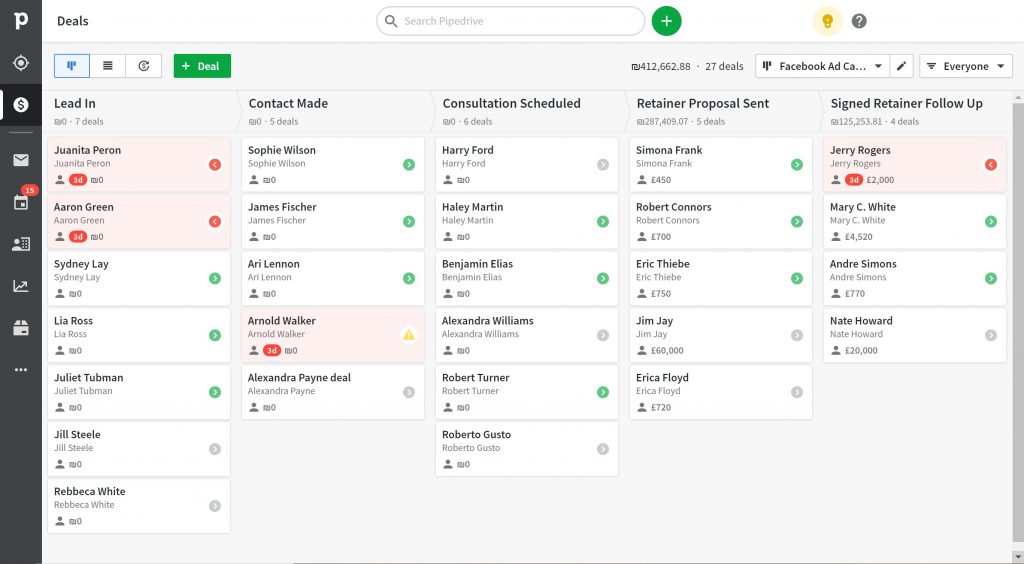 3. Customized Solution for You
This last point ties everything together. Pipedrive is a great tool that can help boost your efficiency and free your time, but most importantly it can be customized to fit your exact needs. Each person has their own workflow, the aspects of their job that they love, and the tasks that they enjoy a little bit less. At it's best, Pipedrive helps you find a smoother rhythm for your daily routine, gives you more time to spend on your favorite projects, and eliminates the repetitive busywork from your job. 
If you've never worked with Pipedrive before, you can consult with a professional who can customize your implementation of Pipedrive by helping you set up the automations, pipeline stages and a data structure that best suit your business. Pipedrive is built to be intuitive, easy to use and can be quickly integrated into any business and also communicate with existing SW. Professional Pipedrive implementation will also include a deep user training to make sure the life of every user is only getting better and easier. The average return on investment for businesses that begin using Pipedrive is over 700%. Transitioning to Pipedrive is a small step that can take your business to new heights.